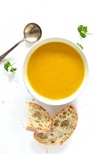 Ingredients
2 Cups chicken or vegetable broth
1/2 Cup unsweetened coconut milk
3 Cups canned pumpkin
1 Cup sliced onions, sautéed
3 Garlic cloves, roasted
3 Tablespoons brown sugar
1 Tablespoon adobo sauce (plus reserve more to add to taste per serving)
Salt and freshly ground black pepper, to taste

Directions
1. Place all ingredients into a Vitamix container in the order listed and secure lid
2. Select Variable 1
3. Turn machine on and slowly increase speed to Variable 10, then to High
4. Blend for 6-7 minutes or until heavy steam escapes from vented lid
5. Serve immediately or refrigerate overnight
6. Serve with the adobo sauce on the side, added to taste
7. Optional: Reheat and serve in a slow cooker

Note: The adobo sauce does have heat so add slowly to taste. The soup is also wonderful without the adobo sauce for those that don't like spicy foods.