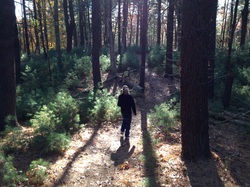 It's a challenge to let ourselves slow down.
As Thomas Moore, author of
Care of the Soul
, says, "We seem to have a complex about busyness in our culture. Most of us do have time in our days that we could devote to simple relaxation, but we convince ourselves that we don't. It seems there is always something that needs doing, always someone who needs our attention."
Moore continues, "Unfortunately, we don't get a lot of support in this culture for doing nothing. If we aren't accomplishing something, we feel that we're wasting time."
We all need time to ourselves, where no external demands are being placed on us, to recharge. How can you cultivate more time for yourself on a regular basis?
Learn more about self-care by
working with a wellness coach
.