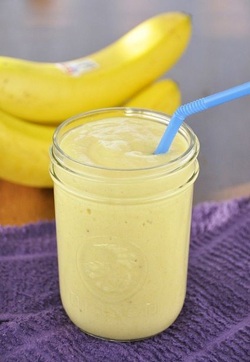 Ingredients
2 Cups milk (i.e. soy, almond)
1 Cup water
1 Tablespoon hemp seeds, or any other nut or seed you have
1 Teaspoon raw virgin coconut oil (optional)
2 Clementines, peeled and pulled apart into sections
1 Pinch parsley leaves, washed
2 Cups greens (I used mixed greens), washed
1 Frozen banana
1/2 Cup frozen cranberries
1/2 Cup frozen raspberries

Directions
Combine all ingredients a high-power blender, in the order listed above. Add more water to taste if you prefer a thiner consistency. Serve immediately. Serves 2-3 people.