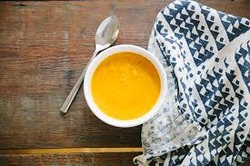 Ingredients
3 Tablespoons extra virgin olive oil
2 Leeks (thinly sliced)
1 lb. Carrots (peeled and thinly sliced)
1 Medium-sized potato (peeled and coarsely diced)
1 1/2 tsp. Peeled and minced/grated fresh ginger
5 Cups chicken or vegetable stock
1/2 Cup fresh orange juice
2 Tsp. grated orange zest
Salt and freshly ground white pepper
Thin orange slices for garnish (optional)
Serves 4 to 6
Directions
In a large saucepan over medium heat, warm the olive oil. Add the leeks and sauté until just slightly softened, about 3 minutes. Add the carrots, potato and ginger and sauté until the vegetables are just softened, about 5 minutes more. Add the stock, cover partially and simmer until the vegetables are completely softened, about 20 minutes. Remove from the heat. In a blender or food processor, puree the soup in batches, leaving some texture, and return the soup to the pan. Set the pan over medium heat and stir in the orange juice and zest. Season with salt and white pepper. 
Ladle the soup into warmed bowls and garnish each serving with an orange slice and a sprig of mint.
Adapted from
Williams-Sonoma Collection Series, Soup
, by Diane Rossen Worthington.