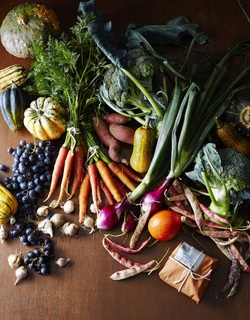 A great way to improve your diet slowly and gradually, without depravation, is to deploy the method of "crowding out."
Instead of going on a restrictive "diet," crowding out entails slowly increasing your consumption of nutrient dense fuel foods, such as fresh fruits and vegetables, to gradually reduce the ratio of processed foods and/or the amount of animal products you eat.
For many this strategy is a way to optimize your diet for health, without the overwhelming all or nothing approach.
According to the
Wall Street Journal,
chefs are taking note and reorienting restaurant offerings to appeal to this trend.
The article explains, "Several trends have converged in a perfect culinary storm. Awakened by the national obesity crisis, many Americans want to eat more healthfully—though perhaps not enough to leave the table hungry. The Harvard School of Public Health recommends eating red meat no more than twice a week. But chefs know that dividing the portions across many meals is a smarter strategy. Studies show that having even a little meat on the plate makes for more satisfied diners. Increasingly, chefs like Jody Adams in Boston, Michael Solomonov in Philadelphia and Alain Ducasse in Paris are finding delicious ways to strike a balance between health and hedonism."
Read the full article:
Meat on the Side: Modern Menus Shift the Focus to Vegetables
.