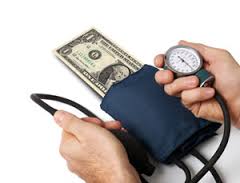 We all have our own specific relationship and mental constructs related to money. Do yours leave you feeling secure and in control, or reactive, worrisome and frazzled? If you are like most people, the answer is probably a little of both.
"Financial health is having a conscious and purposeful relationship with money that is satisfying and isn't overly stressful," said Brad Klontz, PsyD, a financial psychologist and director of research at H&R Block Dollars & Sense.
Working with a coach
to define your financial values, and planning spending based on that foundation, can help in developing a greater sense of control and peacefulness concerning your fiscal future.
Learn more about wallet wellness from this great article:
What It Means to Have a Healthy Relationship with Money
.